Nearly three weeks after having been named by President Shimon Peres to form the next government, Benjamin Netanyahu finds himself between a rock and a hard place. He is supposed to have formed a coalition by early March, with the leeway to extend that by two weeks – which gives him, at most, another three weeks. As happens at each election, this period of secret post-electoral negotiations provides useful lessons because it is at this point that the platform of the future government is finalised, which will limit any subsequent room for manoeuvre. This system of protracted coalition negotiation is what led Kissinger to make his famous remark that 'Israel has no foreign policy, only domestic policy.' Events unfold like a piece of theatre, with frequent plot twists and acts of treachery.
We have already witnessed the first two acts of the play:
Act 1, scene 1:
When the results are announced, the 'winner,' Yaïr Lapid, and the 'loser,' Benjamin Netanyahu, both make statements calling for the formation of a broad-based coalition, able to meet the multiple challenges that the country faces. State-owned television stations broadcast images on a loop of Lapid and Bibi embracing each other at the Knesset in mutual congratulations.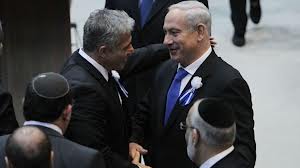 Act 1, scene 2:
There is a change in atmosphere after their first meeting, when Lapid, joined by Naftali Bennett of the Jewish Home Party (Habayit Hayehudi), reiterates his campaign pledges: the enrolment of Yeshiva students in the army and the teaching of basic subjects such as maths and English in ultra-Orthodox schools as a precondition to being able to continue receiving government subsidies. The proposal made by Eugene Kandel, head of the National Economic Council, with the support of Bibi, to raise enrolment of yeshiva students aged between 18 and 24 to 60%, is rejected by the Lapid/Bennett alliance, joined by Shaul Mofaz, at the head of what remains of Kadima (two MKs).
Act 1, scene 3:
Lapid, intoxicated by his strong position, announces that he will become Prime Minister after the next elections; this claim, according to commentators, infuriates Bibi. Bennett apologises for his joke about Sara Netanyahu, with whom he claimed that he had 'taken lessons in terrorism.'
Act 2, scene 1:
Surprise plot twist: Netanyahu and Tsipi Livni announce that they have signed an agreement according to which Livni will be both Minister of Justice and head of future negotiations with the Palestinians, directly responsible to the Prime Minister. She will also be named to the ministerial committee for national security. She obtains another ministerial post for her party, probably that of Minister of the Environment, and the leadership of a Knesset committee, a clear demonstration of her success in negotiating power in exchange for the support of her six mandates. Although she ran in the elections as an alternative to Bibi, Livni justifies her U turn as a 'necessity, to leave no stone unturned in being part of a government that will do all it could to bring about peace.' The question remains: has she received guarantees from Bibi that he is committed to serious negotiations with the Palestinians? Or will she merely be the presentable face of the government to the international community, as Barak was before her?
Act 2, scene 2:
Bibi faces a stark choice:
–          If he decides to reject as coalition partners the Lapid/Bennett alliance and their 31 MKs, he knows that the mandates received by his traditional allies, the two Orthodox parties (11 Shas MKs and 7 from Ya'adout Hatorah) will not be enough to form a government. He will need another 6 MKs to reach the minimum of 61 to gain a majority in the Knesset. He will either have to persuade the Labor leader Shelly Yachimovitch to change her position by renouncing her commitment to lead the opposition, or try to split her party to bring in some Labor MKs, as he did with Barak during his previous government. Such a scenario seems unlikely, given the enormous chasm between the economic positions of Bibi and Shelly. However, should such a scenario come to pass, it would mean there was a majority in the coalition in favour of pursing negotiations with the Palestinians.
–          The alternative would be to capitulate to the Lapid/Bennett alliance and to accept their demands. In such circumstances Bibi would certainly be forced to renege on his agreement with Livni, whom Bennett claims is ready to give back the settlement of Ariel and divide Jerusalem. An opinion poll conducted by a television station suggests that a coalition with no orthodox representation is preferred by 51 % of voters.
The two opinion polls conducted this weekend give, in the event of new elections, 30 seats to Lapid and only 22 to Likud-Beteinu, or 24 to Lapid and 28 to Bibi, in both cases showing a further erosion of support for Bibi. However it is unlikely that Israel will go to the polls in the coming weeks. The situation in the region, with on the one hand the risk of further threats from Iran and an escalation of violence in Syria, and on the other the possibility of a third Intifada in the occupied territories, means that the country cannot risk being without a government for any extended period. And Bibi really needs to have formed a government by the time Obama arrives in the region on March 20th.
How will Bibi deal with the third act? Sharon used to say that he would not give in to pressure. This is the feeling in the Bennett and Lapid camp, who count several former Bibi supporters amongst them.[1] Who will call whose bluff?
The risk is that by focusing too much on internal problems, this power play will be turned into a tragedy. It is time for the country's leaders to come to terms with the fact that whilst they are negotiating, the cinders are sparking in the occupied territories, where the real urgency lies. Increasingly violent confrontations with settlers, demonstrations supporting hunger strikers in prison, the death in prison last Saturday of Arafat Jaradat – arrested the previous week for having thrown stones at Israelis, whose funeral on Monday was attended by thousands of Palestinians – are all warning signs.
David Chemla
---
[1] Ayelet Shaked, Eyal Gabai and Shalom Shlomo, as well as Bennett himself, of Habayit Hayehudi and Uri Shani of Lapid.