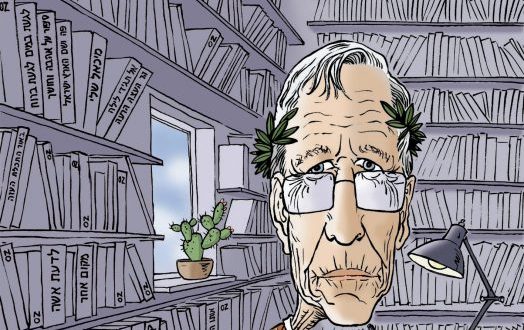 Our Challenge for 2019: Pursuing Amos Oz's Commitments
In order ro convey a sense of history, it is always a good thing to look back. A year ago, at the start of 2018, our New Year's mail was entitled: "New year, new challenges". One year later, this challenges remain, and become even more pressing.
In France,the election of a new president who walked to the Ode to Joy on the night of his victory had let us hope that a new page of the European construction would be opened. One year later, this president, who had the ambition to modernize France while reconciling it with itself, is weakened by a social crisis the scope of which no one had predicted. Beyond social gaps, that crisis is also a territorial crisis showing us that a society cannot develop while leaving by the wayside people cast off by a system which benefits mainly to privileged and connected sectors of city population. This crisis also reveals a questioning of the operating mode of our democracies. In the era of social networks, it is not possible anymore to meet the expectations of the opinion only during periods of elections—at the risk of seeing, as with the Yellow Vests crisis, a rejection of our model of representative democracy. Such a questioning, by some persons who pretend to speak "in the name of the people", brings about grave dangers, as the XXth century history has shown. And the antisemitic acts and conspiracy statements made alongside some demonstrations of the Yellow Vests definitely reinforce our concern.
In Israel, the year ends with the announcement of early elections in April, probably the most important ones since Rabin's assassination. The most rightist coalition the country has known since its creation is unable to complete its mandate, because of the political weakening of its Prime minister. After the police required his indictment for at least three of the cases of corruption involving him, Benyamin Netanyahu is in the hands of the public prosecutor, Avishaï Mandelbit. And there is every reason to believe that Mr Mandelbit—who has recently received personal threats—has decided to indict him. The only outstanding issue is to know whether he will do it before or after the elections.
In order to find himself in a position of strength, Netanyahu, trusting the polls that still grant about thirty mandates to a Likud under his leadership, has decided to call for elections which he hopes to turn into a personal plebiscite. But the country has other challenges to face than the future of a Prime minister who, at the end of his fourth mandate, will claim a greater political lifespan than Ben Gurion, but who, compared to the founder of the State, will leave it—if he is not reelected—more divided than ever. It is about time to face the real challenges that are essential for the future of the country.
Amos Oz, who just passed away, knew it very well. Author of dozens of books and of hundreds of articles translated into many languages, this giant writer who was expected every year to win the Nobel Prize has been one of the guiding lights of the country. Since the end of the Six Day War, like a prophet, he never stopped warning about the dangers of occupation. Founding member of Peace Now, Amos Oz was not a pacifist, but a fighter for peace, and a staunch supporter of the Two State solution.
Last summer at the Tel Aviv University, during his last lecture, he explained that he was not sure it would be possible to separate from the Palestinians, but that he was sure that if that separation was not achieved, the result would be a binational State doomed to become an Arab State. (Click HEREto see this lecture with English subtitles, from minute 9:40).
His last book, Dear Zealots: Letters from a Divided Land, sounds today like a testament. Oz had it translated at his own expense into Arabic and Russian, he had it distributed for free in the settlements of the West Bank, and made sure that it would not cost more than a cup of coffee in a bookshop. In Dear Zealots, he describes the return to hate that characterizes the rise of fanatism and populism today in Israel and elsewere in the world. Amos Oz points out that "…..people rediscover hate. They get up in the morning, and start hating all those who are not like them…. We are increasingly distancing ourselves from the horrors that occured in the first half of the twentieth century : Stalin and Hitler, unintentionally, seem to have invested the two or three generations that followed with a profound fear of any extremism and with a measure of restraint toward fanatical urges. For a few decades, thanks to the greatest murderers of the twentieth century, racists were a little bit ashamed of their racism….In recent years, this « gift » from Stalin, from Hitler, from the Japanese militarists, is approaching its expiration date. The partial immunity we absorbed is fading. Hatred, zealotry, loathing of the other and those who are different, …all are rearing their heads again."
It is today our responsibility to keep that prophet's voice alive and to pursue his commitment for the Two State solution and against all extremisms endangering our model of liberal democracy in Israel and elsewhere in the world. This is our challenge, and it is a major challenge in terms of mobilization for the upcoming year.
We wish you and your loved ones a happy new year, hoping that 2019 will finally see the election of a new political leadership which will put the negotiation with Palestinian leaders back on the agenda in order to achieve the Two State solution.
Drawing: Kichka